Our company is such a success because it is run by people that know all about caring. In fact, between the carers we have, there is over 30 years of experience. Knowing this, it is not hard to see why we are able to supply top quality domiciliary care. We can support individuals as well as entire families.
The trouble with dementia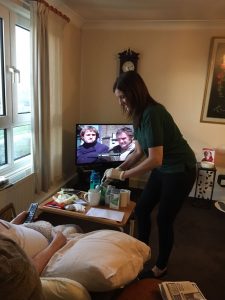 When a person begins developing dementia, their functional degradation could be moderate. In some cases, people can explain near-misses, memory lapses, and mishaps as normal parts of ageing. However, there are times where it is not safe to live alone anymore. Once you begin noticing the signs in excess, you may want to consider hiring a specialist.
The concept of a relative living alone in an unsafe situation can be hard to contemplate. But, the increasing confusion and memory loss of dementia can make certain tasks very hard. Examples include self care, cleaning, and cooking. Their drive to preserve independence as well as avoid shame or embarrassment can lead to them understating their troubles. There are giveaways that can tell you they need live-in care. Contact us if you think a family member needs domiciliary care.
Self-neglect
This is one such giveaway. A person might be wearing unsuitable clothing, look unclean, or struggle to keep their home tidy. If you notice any of this, there is a good chance they are struggling with the day's normal activities.
Another giveaway is them having tablet troubles. Many medical conditions can result in a confusing mix of medicines. See how the person is managing here. Pills could be scattered all over the place. They may have left bottles open. It could be that they are not taking enough medication. Consider live-in care if you have any worries here.
Are they prone to accidents?
The person could be accident prone too. Everyone slips every now and then. Near misses in the home however may be a sign of worsening issues. Scalding with a kettle, setting a pan on fire, and leaving doors unlocked are all signs they may need special care.
You will also want to watch out for practical problems the person might be having. This includes missing vital appointments and the power supply being cut. Both are possible signs that the person's memory loss is negatively influencing their life. During the early phases, additional support from live-in care could aid the person with coping.
We will give you the best domiciliary care
At Diamond Personal Assistants, we support people with all kinds of conditions. Some are age-related whereas others are cognitive or physical. Whatever your needs, we will provide every person with the care, respect and dignity they deserve.
If you want to know more about our domiciliary care service, please let us know. We can provide advice and lots of useful guidance.