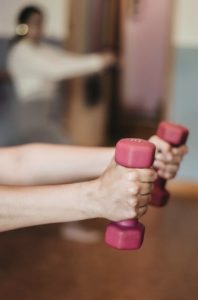 We provide support to a wide range of individuals who need it for one or multiple reasons. Our clients may have health or mobility issues that mean they need help around their home and out in the community. Whatever the case, we can provide stellar domiciliary care services to ensure their wellbeing. The goal here is to keep a sense of normality and maintain independence and comfort but with some extra assistance.
A lack of activity in older people can result in major health complications as well as lower mobility. It will cause aches and pains when you eventually do small activities. That includes simple things like walking to the shop. So, it is better to try to stay active.
The intensity of those activities done by older people will vary between individuals. As we get older, we sadly become more fragile. Separate health conditions can increase the speed at which this occurs. We also take longer to recover. With all of that in mind, it is vital everyone exercises at your own pace. You need to be comfortable with it. By pushing too hard, you can do more harm than good.
Starting off light
The best place to start is with some light exercise. It probably won't make you lose your breath or increase your heart rate. But, it is still a great way of adding intervals into extensive periods of lying or sitting down. Brief stints of light exercising include walking around at a slow pace or cleaning up. All forms of activity, no matter how gentle, are better than none at all.
Taking things further
Anyone who is up to it can go further and do moderate exercise. It is a tad more intense but it is not entirely overwhelming. There is a wonderful way of telling whether an activity counts as moderate. You can have a conversation but not sing while doing it. You should strive to fit roughly 150 minutes of this kind of aerobic exercise into your weekly schedule. Activities can include cycling, tennis, volleyball, and water aerobics.
The most challenging exercises
Finally, we'll talk about vigorous exercise. If you are already pretty active, regardless of age, you could attempt to do 75 minutes of high energy exercise every week. This is an alternative to the 150 minutes of moderate exercise.
You can ramp up your normal exercise to make it tougher. A good example is cycling uphill instead of on flat ground. Other examples of vigorous exercises include running, fast swimming, and fast-paced dancing. If a bit of variety is necessary here, you can try mixing up some moderate and vigorous exercises weekly.
Talk to us and choose domiciliary care
At Diamond Care and Support, we view every client as someone with value. They deserve to have their own sense of identity. Everyone has their own personality, likes, and dislikes. With our services, they are able to continue doing what they love. They'll still be at home rather than being in a care home too.
So, if you require our help with domiciliary care, please let us know. We can tailor a service for you that offers the perfect level of support. Visits can be as regular as you need.