The care services we offer are specifically designed to allow clients to retain their independence. Having spent so long in the industry, our team of support workers understand how important this is. Even if someone needs additional assistance, they don't want it to disturb their normal life too much. This is exactly what our domiciliary care service aims to do.
When someone starts to need extra help on a daily basis, moving into a care home may cross their mind. However, this is not the only option and it can actually be very distressing for some people. One of the greatest alternatives is care at home. It is entirely possible to adapt homes in order to remain independent and ask a professional support work to visit regularly to help. There are also plenty of other excellent reasons why this is well worth it.
Relationships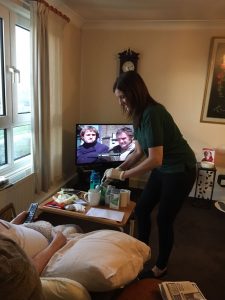 For one thing, this is a brilliant way to help maintain and build relationships. Often when people stay in their own home they rely on family and friends to help with their care needs. This can become hard on all sides and can strain a relationship. It is particularly tough when the people who need the help prefer their independence and don't like asking for help. If the family and friends don't live locally it can be even harder.
Home care is great here. It means people can get the support they need and also lessens the burden on friends and family. As a result there is no strain on any relationships. Plus, as an added benefit the support worker will become a friend.
Healthcare services are better off too
This type of care also reduces the pressures on other healthcare services. It is an integral part of the structure of the health and social care system. The extra help that support workers offer can improve the health and wellbeing of the people they work with. So, it can reduce trips to the GP and hospital.
Ask us if you want to try domiciliary care
The services we offer at Diamond Care and Support are beneficial for those who need assistance for one or more reasons. It could be age, disability, poor health, or mobility. Our support workers aim to promote inclusion, opportunity, independence, and dignity.
So, if there is something we can do for you in terms of domiciliary care, please let us know. The service is incredibly flexible to make sure we provide whatever you need.