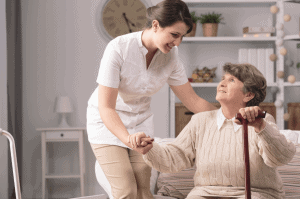 A great level of care does not only cover the medical side of needs. Elite caregivers will go out of their way to ensure those under their supervision remain social if they want to. In addition, they should complete some form of exercise when they can. This needs to be the case even when times are hard such as in lockdown. High levels of stress plus isolation can result in negative effects. For instance, people might suffer depression as well as a decline in cognitive ability. But, people who provide domiciliary care to seniors can in fact quite easily help others stay engaged.
Puzzles
A puzzle can be a relaxing way to distract people from other sources of stress in their life. It can be a fantastic way to occupy minds. This is while stimulating the brain and acting as a problem solving task. A caregiver can lend a hand if people struggle at any point. By completing exercises for brain health, seniors can maintain their independence for a longer period.
Brain teasers
It is easier to keep the brain engaged when people partake in activities like Sudoku, word searches, and mazes. They can be very fun and challenging with difficulty levels to suit everyone. They challenge the brain to work on the task, improving concentration. On top of this, completing an activity will result in a release of dopamine. This can leave the person feeling like they have accomplished something, raising mood and morale.
Crafts & colouring
Completing crafts and colouring enables people to work on dexterity. Colouring can be very relaxing, encouraging fine motor skills. It can also produce bright decorations for living spaces. In addition, people can let out their creative side while crafting by making cards to send to others.
These are only a few of the ways you can make sure an individual is staying engaged in a fun yet effective manner. The tasks can also encourage stronger relationships with others. This is along with better communication skills and mental wellbeing.
Talk to us about domiciliary care
Whatever your situation, Diamond PAs can be there to provide help for you and those you love. We can provide reliable care services you can depend on.
Learn more about domiciliary care by calling us at 01915 166223. Make sure you also read the information on our website.