We supply bespoke services for those in need of help for one or many reasons. Our support workers have experience looking after people with disabilities, health issues, and limitations because of age. Thanks to the domiciliary care service in particular, we're able to look after our clients in the comfort of their own home.
Most people are aware of the benefits of being outdoors for a specific amount of time each week. As a result, most of us do what we can to fit it into our schedules. It is the same for anyone living with dementia. Large improvements to quality of life have been shown for anyone who can get help so they can go outside enough.
There are lots of reasons why spending time out in the fresh air is helpful for dementia sufferers. We want to have a look at them here.
Boost intake of vitamin D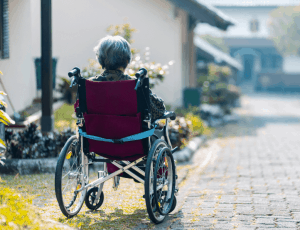 When people don't get this essential vitamin, they could suffer from a myriad of health problems. For example, there can be a higher risk of inflammatory and autoimmune diseases. Vitamin D is also vital for helping the body use calcium and phosphorus. Both are important for health bones and muscles.
Furthermore, a lack of vitamin D can produce bad sleep patterns. Exposure to sunlight allows our body clocks to tune correctly. So, we can enjoy a better schedule for when we wake up and go to sleep.
Lower stress levels and agitation
Getting outside into the fresh air can also lower agitation and stress levels. This is an essential reason to consider setting time aside to go outdoors. Even as little as 10 or 15 minutes every day can enhance mood for those who get care at home. Agitation decreases here too.
Brain health
Even more significantly, studies reveal that light activity and exercise can aid with cognitive decline. The brain stays active and you can fend off degradation. In older individuals, the activity is linked to superior hippocampal volumes. This is known to result in augmented spatial memory function.
In addition, moderate exercise and exposure to bright sunlight can enhance the capacity to communicate. This was from a study of a group of people suffering from Alzheimer's disease.
Choose domiciliary care that can help you get outdoors
At Diamond Care and Support, we treat all our clients with respect and dignity. Our people make sure everyone feels self-respect and self-worth. To us, everyone has value and they deserve their own sense of identity. We'll help how we can to facilitate this, including assisting with going out to get fresh air and attend social events.
So, if you're in need of our domiciliary care service, contact us today. We'd be happy to discuss the options and devise the right services for you.