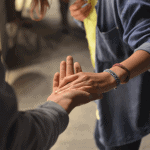 At Diamond PAs we work hard to provide the most reliable domiciliary care services. A big part of this is ensuring that every member of our team will be safe when they are working. To make sure this happens, we give them advice about hazards to be aware of and how to mitigate the risk.
Lone working
The main thing with these services is that the carers or personal assistants often work alone. They will visit the people they care for personally, usually without anyone accompanying them. As a result, it can cause some problems.
Violence
The biggest risk here is violence. Sadly there is a chance that a client or family member can get angry and confrontational. It can even happen when the client gets confused because of a medical condition. To maximise safety it is important to know how to keep calm and diffuse situations. This can help to reduce the chance of things getting violent.
Pet problems
Another thing to worry about is pets. Britain is a nation of pet lovers but it can cause some problems for people who need to enter homes to offer care services. Some pets can get aggressive. Once again it is best for the carer or PA to know how to manage the situation. This could even involve asking clients to put pets away in a room before appointments.
Equipment and chemical hazards
A third risk is accidents involving speciality equipment or cleaning products. Some people who continue living in their own homes need various aids to help them. This could include stair lifts, slings and hoists, oxygen tanks, or even medical devices. Carers and PAs need to know how to work with these items safely. They also need to be aware of the hazards of using different cleaning products around the property.
Local knowledge
Carers and personal assistants may find that they work with clients across a broad geographical area. Unfortunately this can often take them to areas they are not familiar with. That can cause some problems with getting lost. It is a good idea to take the time to check an area. This is especially useful if the domiciliary care service will involve accompanying to appointments, shops, or social events.
Illness
A big risk to the carer or PA and the patient is illness. It could affect safety in multiple ways, including making jobs dangerous as well as risking transmitting it. Most care providers will have rules in place for reporting sickness and what to do. It is important to follow these rules and not take risks.
Setting great standards for domiciliary care
Our goal is to offer the very best care services for our clients. We are flexible and have some of the most highly trained and friendly people in the industry. As a result, we can provide very safe help and support.
So, if you would like to learn more about domiciliary care and what specific services we can offer, speak to us. We can put your mind at ease that you will be working with someone caring and reliable.