We provide care services for those individuals that need extra assistance. Regardless of why you need help, we send a skilled Support Worker to attend to your needs. Our employees can help with everything from shopping and meal preparation to sitting and escort services. Most importantly, we come to you so that you don't have to move to a care home.
Winter is right around the corner. It is a great time for celebration, with Christmas and the New Year to enjoy. However, when temperatures drop, there is a higher chance of slips and falls. For the elderly, the risk of falling is higher, especially if they have mobility problems. They are even more vulnerable when it gets cold.
These falls can not only lead to severe injuries, but a major loss in confidence too. In order to help everyone stay safe when it gets cold, we are going to share some top tips.
Clear up the pathways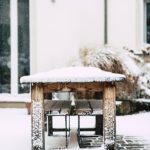 One thing you should do is clear the pathways. When the cold weather arrives, the paths, drive and patio surrounding your house tend to get wet and icy. This makes them hazardous to walk on. Trees will be shedding too, leaving many leaves outside your property. These can block the drains and make walkways especially slippery.
What you need to do is address the slip and trip hazards. A quick clean to get rid of leaves is a good idea. Salt or grit the pathways as well to lower the dangers of slipping. A personal assistant can help here.
Proper footwear
Choosing the proper footwear will also go a long way. Shoes with thick rubber soles or a strong grip provide excellent protection against slippery surfaces. When you are outside, they will make you feel much more confident. Having a mobility aid for balance can help as well. Consider purchasing a walking stick if you feel it is necessary. Plus a Support Worker can help you with getting around, including trips out.
Talk to us to find the right Support Worker
At Diamond Care and Support, we have carers that have over 30 years of experience between them. They know what it takes in order to keep their clients safe and happy. Furthermore, they can work with individuals that have age, cognitive, or physical conditions. Any of these can mean you need extra support.
So, if you need a Support Worker yourself, make sure you contact us. You can talk to us about your specific needs and what kind of services we can offer. Please remember we are flexible and can adapt to suit any needs, now and in the future.