Not everyone is able to help themselves 100% of the time. It is our job to ensure there is someone there to look after those in need. We specialise in providing Personal Care and Home Support as well as a wide array of other services. This ensures you receive help whilst remaining in your own property.
When autumn comes to mind, so does the idea of getting cosy indoors, comfort food, and falling leaves. But, it can be challenging for older people. To assist those who might struggle, we are going to offer some tips for keeping the elderly safe in colder weather.
Staying warm
One of the main issues for older adults is keeping warm when it gets colder. Body temperature drops can increase the risk of pneumonia, flu, strokes, and heart attacks. These can all develop rather rapidly. Keeping the property warm is also critical for those with underlying health issues. If you have concerns about someone that is living by themselves, check to see that their heating is on. Also, make certain the hot water and radiators are in order.
Staying well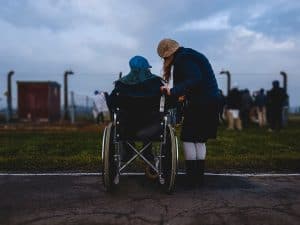 It is important to check that they stay well too. Contagious ailments like flu and colds pop up more when it gets colder. They tend to be worse for the elderly as well. As we age, our immune system becomes less efficient, leading to longer recovery times.
Prevention is the leading way of staying healthy. Those over 50 can receive free flu vaccines from their GP. Additionally, you should ensure that the individual is properly stocked on the essentials. See to it that their prescriptions are not running low. Keep plenty of antibacterial sprays, tissues, and hand sanitiser close too.
Loneliness
Finally, try to prevent loneliness. A large number of individuals over 75 live alone. Leaving home can get tricky when it gets cold, increasing the feeling of isolation. A few acts of companionship however can go a long way to lifting their mood.
Our Support Workers can assist in all of this
At Diamond Care and Support, we work alongside our clients and their families to provide quality support services. This is the easiest way to meet everyone's wishes and requirements.
We have experience of working with those with age-related, physical, and cognitive conditions. So, if you fall into these categories and need domiciliary care, make sure you contact us. We can arrange the perfect service for you for as long as you need it.