We specialise in providing care to those that need it. Our team has professionals with more than three decades of experience between them. Our services range from supporting individuals with disabilities and health problems to working with entire families. Clients can expect us to be mature, willing to help, and friendly.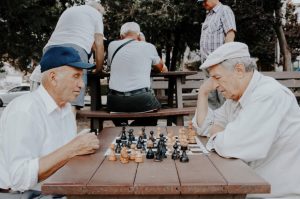 From a young age, most people will have interests and hobbies. They will use their free time to partake in things they enjoy. From watching films to playing instruments, there are all kinds of activities to try in life. Interests will grow and change too. It could be activities with friends or things to do alone. Whatever the case, there is plenty on offer to make life fun.
Many people believe they have to give their hobbies up later in life. This isn't the case though. In truth, it is advantageous for elderly folk to carry on with their interests and activities. Their physical ability doesn't matter; any limitations don't mean it is time to stop. Giving them up can impact quality of life. So, we encourage our clients to continue doing what they love while we are caring for them.
The benefits of hobbies and interests
It can be advantageous to encourage people to carry on for several reasons. Whether it is board games or knitting, hobbies can provide mental and physical stimulation later in life. They can positively influence overall well-being and health.
Participating in hobbies frequently can aid in minimising depression, anxiety, and stress too. This is vital for older people who have more free time. Activities can be a distraction and a great sign there is still plenty to do. Something else they provide is a sense of accomplishment and purpose.
Anyone who lives alone should partake in hobbies for social connections. Spending time with others will bring happiness and joy to their life. It also minimises feelings of isolation.
What to do?
There are a lot of activities available for elderly people to enjoy. Some of these include yoga and pilates. Such exercise classes can aid in enhancing flexibility, strength, and balance. Swimming is great too. They can all be better than more impactful sports.
Gardening is another option. Getting fresh air and spending time outside is good for us all. Working in the garden helps people to can stay physical and enjoy nature at the same time.
There is also painting. For creative individuals, it is an excellent hobby to try later on in life. Even if mobility is an issue, you can enjoy it.
Find a personal assistant who can help with hobbies
At Diamond Care and Support, we view every client as someone that has value. They deserve their own sense of identity. We're committed to working alongside them, meeting their distinct wishes and needs. This includes ones to do with hobbies.
So, if you need a personal assistant, please don't hesitate to contact us. We'll do our very best to ensure you have a really great experience.