You can't avoid getting older; it is a natural part of life. As you age it can change different parts of your life and make some aspects more difficult. You might have someone close to you who is getting older and starting to struggle. However, you don't have to let this happen thanks to domiciliary care services. You can rely on our team to offer support as and when you need it.
People who embrace the idea of support can deal with ageing successfully. This allows individuals to hold on to their independence and maintain a great quality of life. You need to look out for elderly relatives who might not realise or want to admit that they need extra support. Recognising the signs will allow you to know when they need your help.
Cognitive issues
When people get older, their cognitive state can decline. This results in issues that you might not immediately recognise as relating to their age. You might think that they are simply forgetful. But, this along with difficulty keeping track of things can suggest a more serious issue like dementia. It might not be what is happening but you need to take care and look out for your relatives.
Cognitive issues can suggest that your parents might benefit from extra help in their home. Services like our domiciliary care provide them with someone who can be there to assist them.
An untidy house
Housework can appear never-ending and exhaust older people. It could be small tasks like cleaning a pile of dirty dishes or something larger like vacuuming. Each task will take up time and can also become strenuous with old age. It is widely known how your environment can affect your wellbeing. If tasks like this are something your relatives are having trouble with, a little support could go a long way.
Changing weight
Noticeable weight fluctuations are a sign of bad health for any age. You can keep an eye on your relatives and their weight to get an idea of their health. Being malnourished can cause a significant change in weight and suggest an underlying issue. It could be that they have trouble cooking for themselves or forget to eat. Domiciliary care can include help with shopping as well as cooking to make a big difference.
Poor hygiene issues
A lot of the time, elderly people will begin to neglect their hygiene. They might forget about things like washing their hair. Or, they might think that some things like cleaning a dirty piece of clothing is not a priority. You may want to look into working with someone who can encourage them with their personal care and also assist if they struggle with it.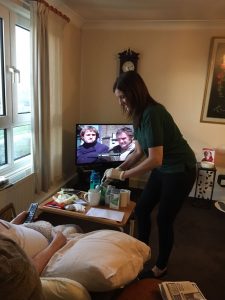 Elderly people can face some really tough challenges. It may be hard to even ask for help and many people don't want to risk losing their independence. Investing in domiciliary care is the best option if the person wants to remain independent. Diamond PA works to ensure that people live in clean conditions that are safe. We discuss your needs so that we can offer the right level of support.
If you have elderly relatives and want to arrange extra help for them, get in touch with us today. We can provide lots of different services, picking and choosing what each person needs. Every PA on our team is a professional with an excellent track record so you can be confident they really care.