Diamond PA is a team of experienced carers you can have confidence in. Our exemplary domiciliary care services are perfect for people of varying ages and needs.
When it comes to dementia and Alzheimer's, most people think about memory. While this is a common symptom, it is not the only warning sign. You should be aware of the other things people might experience.
Changing Senses
A lot of people with Alzheimer's and dementia deal with changes to their senses. This can include issues with spatial awareness and vision. They might also have more problems identifying objects or colours in the background. A changing sense of taste can be yet another indicator of dementia, especially if people find it hard to tell the temperature of food.
All of these signs can suggest that someone has dementia. If you have a loved one experiencing these issues, they might need extra care to ensure they can live their life and stay safe.
Difficulty Keeping Emotions In Check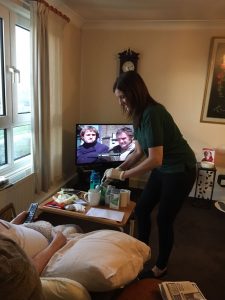 Another strong indicator of dementia is sudden changes to an individual's emotional state. The person might be withdrawn, irritable, and aggressive. This happens when the brain cannot process a situation in a logical and clear way.
People with dementia might also have issues with their self-esteem and confidence. This happens when they feel that no one understands what they are feeling.
When caring for someone with dementia, you should try to talk to them about what they feel while reassuring them that you are there to help. You should give them plenty of time to process what you are telling them. You should also use a light and conversational tone so they relax and feel calm.
Supporting Those With Dementia
Caring for a loved one who has dementia can be hard, but when you are able to recognise symptoms, you can put the right support in place.
When you are in need of help caring for a loved one, Diamond PA is only a phone call away. We offer domiciliary care services for people with cognitive, physical, and age-related conditions.
Get in touch using 01915 166223 or the contact form on our site to talk about our services in more detail.